Flooring, Countertops, Showers and Exterior Paving using specialized equipment and professional grade products. We know how to get even years of soiling and buildup of dulling material off, revealing a fresh and clean surface.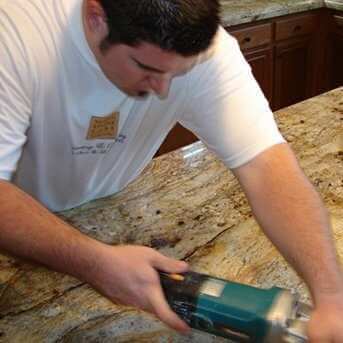 Natural Stone Care & Restoration Co. is a family owned and operated business dedicated to expert craftsmanship, celebrating over 30 years of attentive and professional service!
Since 1988 we have been serving Southern California — San Diego, Orange and Riverside County homeowners and property managers — with specialized cleaning, refinishing, honing, polishing, and protection services and easy to use core products for all interior and exterior natural stone, tile, grout and concrete surfaces. Our flooring, countertop, shower, driveway, garage and pool surround services are offered to both residential and commercial clients.
We are a small, family owned and operated company. comprised of meticulous, expert craftsmen who specialize in customized interior and exterior travertine cleaning, stone cleaning and tile and grout cleaning for homeowners, specifiers, builders, architects, realtors, and property managers.
California Contractor License #745794 (Stone Polishing and Refurbishing Specialization)
Bonded and Fully Insured
A+ Rated Better Business Bureau Member
Certified Stone and Tile PRO Partner
A+ Rated Angie's List Member
5 Star Google Rated
5 Star Yelp Rated
5 Star HomeAdvisor Rated
Satisfaction Guaranteed
Read More
TIPS

& ARTICLES

These tips and articles address many common concerns about day-to-day maintenance, as well as not-so-common problems.
We regularly add new content, so please visit often, because you might find some very valuable new information.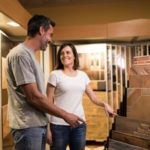 Differences between porcelain and ceramic can impact the cost, appearance, and longevity of your installation. Read this article for important info you should know.
What You Should Know About Porcelain and Ceramic Tiles Porcelain and ceramic are similar, in that they are both made from clay and kiln fired,
read more
WHAT OUR CUSTOMERS TELL US…
Dear Pat,

This past week you and Tony spent three days in our home in the Carmel Valley area of San Diego. The home has marble throughout the living, dining, and bathroom, and because of a recent first floor flood, it had been scratched by all the heavy drying machinery. The kitchen has a white tile floor and the grout had been heavily soiled by the flood and the rehab contractors. We hired Natural Stone to sand and polish the marble as well as to clean the kitchen grout and polish the tile. We couldn't be more pleased. You and Tony were the most punctual, courteous, and professional contractors we've ever worked with. You started every day on time, and when you ended each day you had cleaned and tidied up the work areas. But even more important is the quality of the work. The marble is absolutely gorgeous!! The scratches are completely gone and the shine is that of a brand new floor. It is stunningly beautiful.

Your high standards for quality and your attention to detail was most impressive. I would happily refer to you and sing your company's praises to anyone.

, Carmel Valley in San Diego, CA